HOURS OF OPERATION:
Patrick Air Force Base
Mon - Fri: 8 am - 4:30 pm

Cape Canaveral Air Force Station
Mon - Thu: 9 am - 3 pm
Fri: 9 am- 2 pm
Patrick AFB U.S. Postal Service
Mon - Fri: 9:45 am - 12:15 pm
321-494-6297
Patrick Air Force Base Postal Service Center & Official Mail Center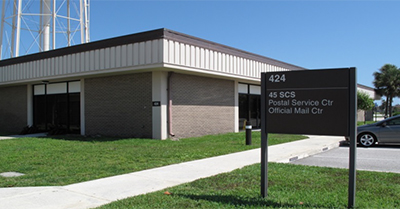 Building 424, collocated with the USPS.
Official Mail Center: 321-494-4195/8; DSN 854-4195/8
Postal Service Center: 321-494-4927; DSN 854-4927
FAX: 321-494-5944; DSN 854-5944

Welcome to the Patrick AFB Postal Service & Official Mail Center (PSC,OMC) webpage. We look forward to serving you and your respective organizations. Please contact us for information on PSC mail.
OUR SERVICES
General Delivery Service (personal mail) for:

Personnel with Permanent Change of Station (PCS) or Temporary Duty (TDY) Orders
Personnel attending the Defense Equal Opportunity Management Institute (DEOMI) course

Mail Box Service (personal mail) for:

Dormitory Residents
Personnel attending the DEOMI Course (long course)

The OMC provides Official Mail service for the 45th Space Wing and Mission Partners.
The OMC serves as the Base Personnel Locator, providing duty phones of active duty and civil service personnel.
Base Personnel Locator: 321-494-4542 or DSN: 854-4542.

Lodging Personnel:
Personnel residing in lodging with official orders should contact us if requiring mail service. The USPS and OMC do NOT delilver personal mail to lodging addresses. Personnel in lodging not on official orders may contact the USPS for mail service.


---