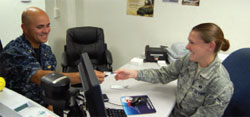 Military Personnel Flight
Due to COVID-19, 45 SW is in HPCON CHARLIE, therefore we are ONLY servicing mission essential personnel to PAFB/CCAFS, new DEERS enrollments, DEERS entitlement changes, and College Students 21 and over at this time by appointment only.
To schedule an appointment with our office, Click here.
Renewal IDs will not be issued for retirees and dependents at this time.
Retirees and dependents whose IDs expired on or after Jan 1, 2020 will still receive their benefits and entitlements until Sep 30, 2020.
CACs and VoLACs which expire on or after Apr 16, 2020, and are within 30 days of expiration, may have the certificates updated using ID Card Office Online to allow for continued use for logical access through Sep 30, 2020. Please use this link for step-by-step instructions.
NOTICE: Making a copy of your Military ID card is NOT authorized and is a crime!
If a copy of your Military Id card is discovered it will be confiscated & you will be subject to fine and/or imprisonment.
HOURS OF OPERATION
The MPF Customer Support Section (DEERS/ID CARDS) is open 8 am - 3 pm Monday thru Friday. The MPF is located at 620 O'Malley Rd, bldg 537, rm 101, Patrick AFB FL 32925.
The MPF will be closed on the third (3rd) Friday of each month as well as all Federal Holidays.
Identification Requirements:
Proper identification is required for all transactions. To be issued any ID card you will need the following:
Two forms of unexpired identification. Names on both forms of ID must match. Two forms are required for anyone 18 years of age and older. One form of which must be a current photo ID.


CHILDREN under 18 years of age require only one form of ID. (ex. SSAN card, Birth Certificate or current military ID card).
CAC Pin Resets are walk-in services ONLY!
Please see options below for our additional services.
Married - enrollment of spouse
Parent/Parent In-law Enrollment
Incapacitated Child & Dependent Ward
Designated Agent Letter
NOTE: THIS SITE IS NOT FOR PASSPORTS. If you require a passport appointment, email the passport agents at 45fsspassports@us.af.mil or call 321-494-9024/2330.
DFAS Contact Phone Numbers:
AIR FORCE - (317) 212-3657 or 800-525-0102
NAVY - 888-332-7411 (opt 2)
ARMY - (317) 212-1910 or 888-332-7411
MARINES - (703) 784-9529
COAST GUARD - (785) 339-3441
Other locations for ID cards include: NRC Orlando (407) 240-5939, NAWC Orlando (407)-240-5939, NMWR Miami (305) 293-3778, or to find the site near you go to RAPIDS Site Locator.
In the event you have any questions or concerns, contact the MPF Customer Support at (321) 494-6144. Thank you for your cooperation.
---